ARRW
ARRW
 Hi, mates☺️ How are you doing these days?
Do you like Tapioca(Bubble Tea) anyway?
…Me? I dooooo!💗 TAPIOCA is the hottest drink in JAPAN right now, but there are lots of Tapioca stores around here actually, but they're all alike I know.🤨
So today, I'd like to introduce you to THE BEST TAPIOCA in OSAKA! 
There is a store named 'CoCo Toka(CoCo Fresh Tea & Juice)'.
CoCo is a global bubble tea drink franchise based in Taiwan. It was established in 1997 by Tommy Hung, the current chairman. 
Globally, CoCo has more than 4,000 locations now!✨
I wanna tell you about CoCo's 2 recommended points just you and me tho!🤫🤫
NO.1 : TOO MANY TAPIOCA's ON THE MENU!
When I get there, always I can't decide what to order…(click the left photo)
But I know…whatever you wanna order that day depends on your mood, isn't it? 
Such as feel like wanna eat 'fruit one' or ' the classic milk tea' or 'chocolate one' something like that…,right?🤔
So I think this store suits you definitely!! You can choose 10 types of TAPIOCA's drinks!👏🏻✨
My favourite one is 'Mango Yogurt with Pearls'(the middle of👆🏻)
CoCo makes several beverages containing this sweet probiotic yogurt drink! Including green tea yakult, lemon yakult, and mango yakult.🙋🏻
I found it to be a very sweet mango drink, a little creamier than straight mango juice!💗💗
(Obviously like the classic milk tea, but getting tired of it every time…🤫🤫)
And the staff automatically ask if you'd like to customize the sweetness of most drinks; you can specify 0, 30, 50,70 percent, or regular sugar
, and you can also tailor the ice levels to your liking (less, regular, more).
You can also order warm drink(please order one with a red mark🔴 on the menu)
This time, I ordered 'the Mango one with 30% sugar, and no ice!(the middle of👆🏻)
NO.1 : AFFORDABLE PRICE!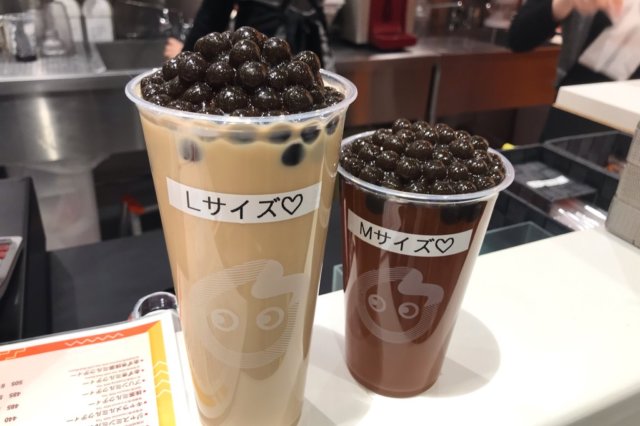 You also think about it's too expensive with TAPIOCA, right?💢☹️ 
because when I go to the other TAPIOCA's store every time, the cost must be around ¥700JPY….😨
BUT! It'll be fine! Almost CoCo's TAPIOCA drinks are about ¥400JPY level(M). What a good deal!☺️
There are 2 two sizes M or L. For me, always order M size(the right side👉🏻) I think M is just right eating TAPIOCA is getting stuffed easily that's why..🤰🏻haha
Or if you have a chance to go there with your friend or bf, why don't you share with L size?👯‍♀️💏
Every TAPIOCA here is really really chewy, jiggle, and firm texture anyway!!!!!!!!!! Bet this is the BEST TAPIOCA in OSAKA!
You'll definitely know it when you try it😉
So let's share fun time drinking CoCo's one on your Instagram! haha
👇🏻This is like a Japanese teenager's latest style posting those photos after drinking TAPIOCA🤣🤣LOL👇🏻
CLEAR