ARRW
ARRW
Hi, everyone! How are you? It's MITSUWAYA Staff Mako.
November is finishing now, I feel the time pass so fast!
Today I would like to recommend one day trip from Osaka, to TOKUSHIMA! It's my hometown!!!
Osaka to Tokushima, it takes only 2 hours by bus, but it's NOT known very much for tourist. I think it's because there is little public transportation in Tokushima..
So, I highly recommend you to lent a car. but if you don't have a international driver license, I will tell you how to move in Tokushima, do don't worry!
Let's discover Tokushima!!!
By the way:
Tokushima is in very country side, it's not like Osaka or Tokyo. You can go there by train as well, via Okayama and Kagawa, but you cannot use electronic pass in Tokushima. So just buy paper ticket!
Whirlpool in Naruto
From Osaka to Tokushima, you have to across 2 big bridge. Akashi-Kaikyo Bridge and Onaruto Bridge. It will take your breath away!
After across Onaruto Bridge, you are in Tokushima. First, let's go to Naruto city, Whirlpool in Naruto!
By the way, do you know "Naruto" of Manga? If you like Japanese manga, maybe you know, right? It's really really famous Manga. Main character's name is "Uzumaki Naruto", Uzumaki means whirl in Japanese, so the name is from this whirlpool!
Do you know why whirlpool appears? It's because of Japan's land shape. An ocean currant from Pacific ocean and a currant from Seto Island Sea collide each other, then whirlpool appears. What a magnificent of nature!
Under the Onaruto Bridge, there is "Uzu no Michi" who means street of whirlpool. You can walk under the bridge and observe whirlpool. My recommendation is getting on the boat to see whirlpool. Because I think you will feel more power of whirlpool if you see it from the boat. You will find easily "Whirlpool watching boat", because there is many company!
And, what I want to suggest you is, checking the time you can see big whirlpool before you go there. Because of high tide or low tide, best watching time will be change everyday.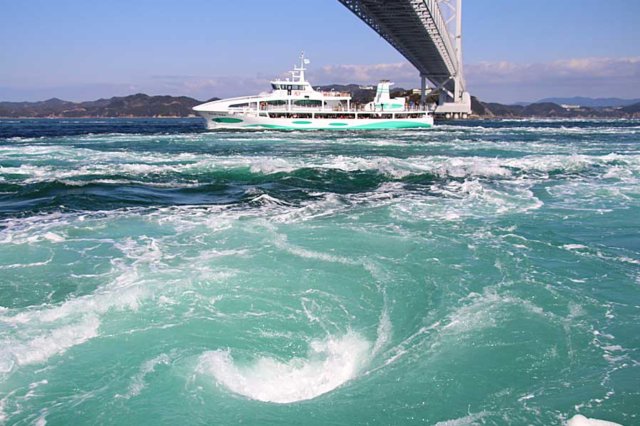 Naruto Park
Did you enjoy the whirlpool? Now let's go to Naruto Park. I like this park very much. Nothing special, but very refreshing park there. Just take a photo in front of Onaruto Bridge♬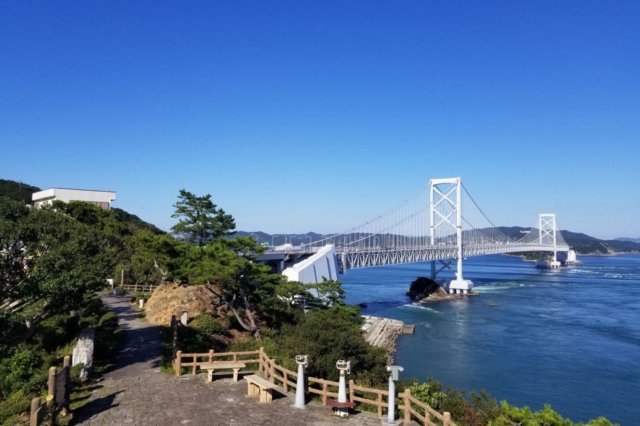 Bimbiya
After take a walk, you are hungry now, right? What do you want to eat for lunch?
When you are in Naruto city, I highly recommend "Bimbiya"!!! "Bimbi" means fish in dialect of Tokushima. Yes, it's restaurant of fish!!
My parent house is not very close from this Bimbiya.(Around 1 hour by car) Even so, I always go to this restaurant when I go to home. Every time I go there, I order Assorted sashimi and rice. Sashimi is very fresh and Miso soup is relieved taste.. Ohhh this photo makes me want to eat..
Naruto German House
If you are interested in history or classic music, please try here, Naruto German House.
Do you know Sinfonie Nr. 9 d-moll op. 125 by Ludwig van Beethoven? In Japan, this music is very known.
While World War 1st, german solders was prisoned here. But camp director wasn't bad man. He allowed them to live there freely, so german solders exchanged culture with local people. One day, they played that Symphony and local friend enjoyed together. That was the first performance of Symphony No.9, them the symphony begin famous in Japan.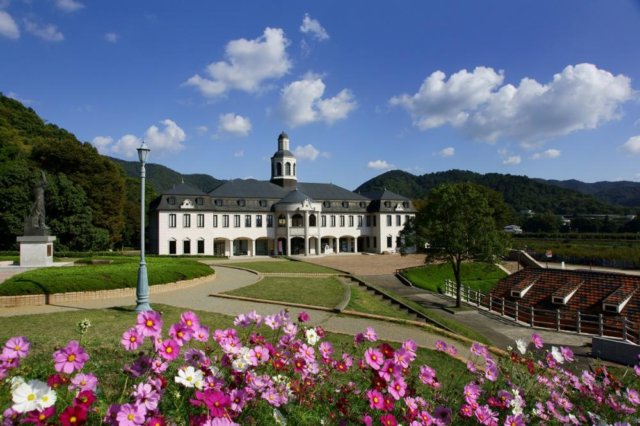 Bizan Mountain
Now, let's move to Tokushima city. Middle of Tokushima city, there is mountain, the name is Bizan. You con go up to the top by cable car! Enjoy the view of Tokushima.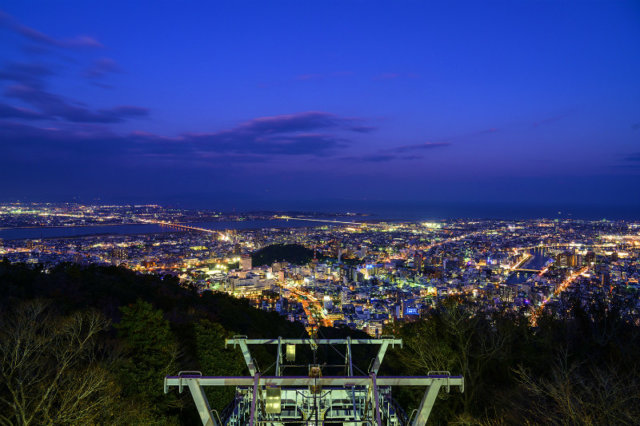 Taki no Yakimochi
If you have time, I want you to try this restaurant as well!! "Wadanoya" it's the name of restaurant, and they provide "Taki no Yakimochi". Mochi means rice cake, so this is Tokushima's traditional cake. 
When I was child, my grandmother often bought this rice cake. And my sisters and me tried to get rice cake as much as possible. Yes, it's really tasty!
If you don7t have much time to go there, you can get it at Tokushima station or Awaodori Kaikan, but the most tasty is freshly basked one.
Awaodori Kaikan
What I want to tell you the most, how nice Awaodori is. Do you know Awa Odori? It's traditional Dance of Tokushima. This dance has history of more than 200 years. Recently Awa odori is getting more famous, because Awaodori dance festival is held in Tokyo as well.
Anyway, PLEASE TRY THIS DANCE. The basic of this dance is very easy, raise your hands and walk to the music. Music is always Raw sound, player is playing Japanese drum, Japanese flute, Japanese guitar and Japanese gong.
Awaodori festival is held from 12th August to 15th August, only 4 night par year, but here, Awaodori Kaikan, you can enjoy Awaodori all year!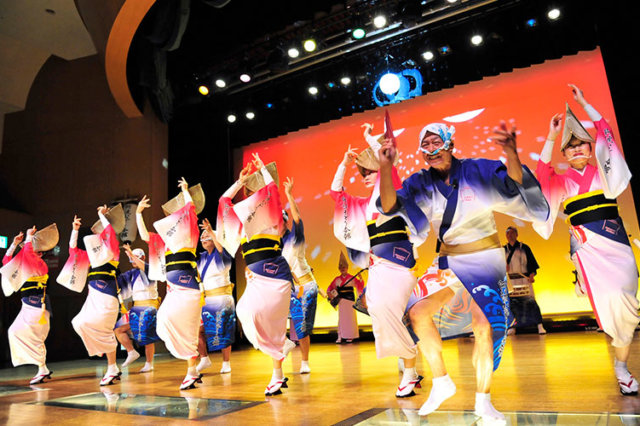 I wanted to recommend too much about Tokushima.lol
Why don't you try there???
CLEAR